!! History Commons Alert, Exciting News
Context of 'February-March 28, 2002: Intelligence Leads to Al-Qaeda Leader Abu Zubaida's Location; Accounts Differ'
This is a scalable context timeline. It contains events related to the event February-March 28, 2002: Intelligence Leads to Al-Qaeda Leader Abu Zubaida's Location; Accounts Differ. You can narrow or broaden the context of this timeline by adjusting the zoom level. The lower the scale, the more relevant the items on average will be, while the higher the scale, the less relevant the items, on average, will be.
Karl Inderfurth. [Source: Harikrishna Katragadda Mint]Assistant Secretary of State Karl Inderfurth, accompanied by State Department counterterrorism expert Michael Sheehan, visits Pakistan, shortly after Pervez Musharraf took power in a coup (see October 12, 1999). Inderfurth meets with Musharraf, and is disappointed with Musharraf's reluctance to take any action against al-Qaeda or the Taliban. Al-Qaeda leader Abu Zubaida is living openly in the Pakistani town of Peshawar, and the previous month was implicated in an attempted bomb plot in Jordan (see November 30, 1999). A number of intelligence agencies are monitoring Zubaida's communications (see October 1998 and After), and one of his top aides, Khalil Deek, appears to be a Jordanian intelligence mole (see Shortly After December 11, 1999). There are allegations that the Pakistani ISI intelligence agency has been protecting Zubaida (see 1998-2001). Musharraf indicates to Inderfurth that he is unwilling to act on US intelligence about Zubaida. [Levy and Scott-Clark, 2007, pp. 295] US ambassador to Pakistan William Milam will later say: "The Pakistanis told us they could not find him, even though everyone knew where he was. The ISI just turned a blind eye to his activities." In fact, there is evidence Zubaida was working with the ISI, helping them vet and train militants to later fight in the disputed region of Kashmir (see 1998-2001). [Rashid, 2008, pp. 48] Musharraf also tells Inderfurth that he is unwilling to support any program to capture Osama bin Laden, as his predecessor, Nawaz Sharif, had been willing to do (see October 1999). And asked to pressure the Taliban, Musharraf sends ISI Director Lieutenant General Mahmood Ahmed to meet Taliban leader Mullah Omar. Mahmood is well known to be a supporter of the Taliban, so his visit is considered an empty gesture. [Levy and Scott-Clark, 2007, pp. 295] Robert Einhorn, a specialist on the non-proliferation of nuclear weapons in the Clinton administration, does not go on the trip. Inderfurth will later say Einhorn's absence showed a lack of interest by the administration in non-proliferation: "The fact that Mike [Sheehan] was included and Bob left out showed our priorities at that time. Our agenda was counterterrorism, al-Qaeda, and democracy. We had somehow divorced these from the nuclear threat and A. Q. Khan." [Levy and Scott-Clark, 2007, pp. 292]
The house in Faisalabad where Abu Zubaida will be arrested. [Source: PBS]At some time around February 2002, intelligence leads to the location of Abu Zubaida. He will be captured in Faisalabad, Pakistan, in late March 2002 (see March 28, 2002). However, accounts on what intelligence leads to Zubaida's location differ greatly:
Call to Yemen? - According to the Associated Press, "Pakistani intelligence officials have said quietly that a mobile phone call Abu Zubaida made to al-Qaeda leaders in Yemen led to his arrest." [Associated Press, 4/20/2002] This could be a reference to the "Yemen hub," an important al-Qaeda communication node in Yemen that has long been monitored by US intelligence. The hub is used until the middle of February 2002, when it is raided and shut down (see February 13, 2002).
Bribes Play Key Role? - According to books by Jane Mayer and Ron Suskind, Pakistani intelligence officers in Pakistan's tribal region notice a caravan of vehicles carrying tall women wearing burqas who turn out to be male Islamist militants in disguise. According to Suskind's version, the militants are arrested, but refuse to talk. According to Mayer's version, the caravan is allowed to proceed. However, both authors agree that a bribe to the driver of one of the cars reveals that their destination is Faisalabad, Pakistan. Suskind adds that the driver gives up the name of a contact in Faisalabad, and that contact is found and reveals that Zubaida has arrived in town. US intelligence begins intensively monitoring Faisalabad. Afterwards, Mayer claims that the CIA buys the ISI's help. A CIA source involved in the situation will later tell Mayer, "We paid $10 million for Abu Zubaida." [Suskind, 2006, pp. 84; Mayer, 2008] In 2006, Pakistani President Pervez Musharraf will write in a memoir, "Those who habitually accuse us of not doing enough in the war on terror should simply ask the CIA how much prize money it has paid to the Government of Pakistan." [Musharraf, 2006, pp. 190]
CIA Tracks Zubaida's Calls? - According to a 2008 New York Times article, in February 2002, the CIA learns that Zubaida is in Lahore or Faisalabad, Pakistani cities about 80 miles apart and with a combined population of over 10 million. The Times does not say how the CIA learns this. The CIA knows Zubaida's cell phone number, although it is not explained how this was discovered either. (However, it had been reported elsewhere that Zubaida's number had been monitored since at least 1998 (see October 1998 and After) and was still being monitored after 9/11 (see September 16, 2001 and After) and October 8, 2001).) Specialists use an electronic scanner that can track any operating cell phone and give its approximate location. However, Zubaida only turns his phone on briefly to collect messages, so his location cannot be pinpointed. A talented CIA official named Deuce Martinez gets involved. He posts a large, blank piece of paper on a wall, and writes Zubaida's phone number in the middle of it. Then he and others add linked phone numbers, using the monitoring capabilities of the NSA and Pakistani intelligence. A map of Zubaida's contacts grows. Eventually, Martinez and others are able to narrow Zubaida's location down to 14 addresses in Lahore and Faisalabad, and these places are put under surveillance. Rather than wait any longer for more intelligence, all 14 locations are raided at once in a joint Pakistani-CIA operation on March 28, 2002, and Zubaida is found in one of the Faisalabad addresses. [New York Times, 6/22/2008]
Key Call to Bin Laden or Al-Zawahiri? - Suskind's book will also give the story of the CIA narrowing down the locations by monitoring local phone calls. He says that teams of CIA and FBI arrive in Faisalabad on March 17 for more intensive monitoring. Then, the key break comes near the end of the month, when two calls from a certain house in Faisalabad are made to phone numbers in Afghanistan that might be linked to Osama bin Laden or al-Qaeda number two leader Ayman al-Zawahiri. By this account, US intelligence already has a good idea which of the 14 locations Zubaida is in, because of those calls. [Suskind, 2006, pp. 87-89]
Explanations May Not Conflict - Note that these explanations do not necessarily conflict. For instance, bribes could have provided the lead that Zubaida was in Faisalabad, and then further CIA monitoring could have narrowed down his location there. Bribes also could have helped insure that Pakistani intelligence did not tip off Zubaida prior to the raid. The calls to Yemen and/or Afghanistan may have played a role along with other intelligence.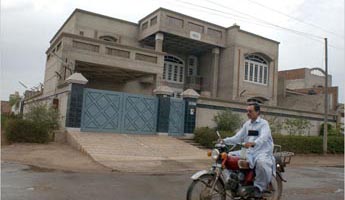 The house in Faisalabad, Pakistan, where Abu Zubaida is arrested. [Source: New York Times]Al-Qaeda leader Abu Zubaida is captured in Faisalabad, Pakistan. He is the first al-Qaeda leader considered highly important to be captured or killed after 9/11.
Zubaida Injured during Raid - A joint team from the FBI, the CIA, and the ISI, Pakistan's intelligence agency, raids the house where Zubaida is staying. Around 3 a.m., the team breaks into the house. Zubaida and three others wake up and rush to the rooftop. Zubaida and the others jump to a neighbor's roof where they are grabbed by local police who are providing back-up for the capture operation. One of Zubaida's associates manages to grab a gun from one of the police and starts firing it. A shoot-out ensues. The associate is killed, several police are wounded, and Zubaida is shot three times, in the leg, stomach, and groin. He survives. About a dozen other suspected al-Qaeda operatives are captured in the house, and more are captured in other raids that take place nearby at the same time. [New York Times, 4/14/2002; Suskind, 2006, pp. 84-89] US intelligence had slowly been closing in on Zubaida's location for weeks, but accounts differ as to exactly how he was found (see February-March 28, 2002). He had surgically altered his appearance and was using an alias, so it takes a few days to completely confirm his identity. [New York Times, 9/10/2006]
Link to Pakistani Militant Group - A later US State Department report will mention that the building Zubaida is captured in is actually a Lashkar-e-Toiba safehouse. Lashkar-e-Toiba is a Pakistani militant group with many links to al-Qaeda, and it appears to have played a key role in helping al-Qaeda operatives escape US forces in Afghanistan and find refuge in Pakistan (see Late 2001-Early 2002). [US Department of State, 4/30/2008]
Rendition - Not long after his arrest, Zubaida is interrogated by a CIA agent while he is recovering in a local hospital (see Shortly After March 28, 2002). He then is rendered to a secret CIA prison, where he is interrogated and tortured (see Mid-May 2002 and After). Throughout his detention, members of the National Security Council and other senior Bush administration officials are briefed about Zubaida's captivity and treatment. [Senate Intelligence Committee, 4/22/2009
]
Is Zubaida a High-Ranking Al-Qaeda Leader? - Shortly after the arrest, the New York Times reports that "Zubaida is believed by American intelligence to be the operations director for al-Qaeda and the highest-ranking figure of that group to be captured since the Sept. 11 attacks." [New York Times, 4/14/2002] But it will later come out that while Zubaida was an important radical Islamist, his importance was probably overstated (see Shortly After March 28, 2002).
Tortured While in US Custody - Once Zubaida has sufficiently recovered from his injuries, he is taken to a secret CIA prison in Thailand for more interrogation. [Observer, 6/13/2004; New York Review of Books, 3/15/2009] One unnamed CIA official will later say: "He received the finest medical attention on the planet. We got him in very good health, so we could start to torture him." [Suskind, 2006, pp. 94-96, 100] Defense Secretary Donald Rumsfeld publicly vows that Zubaida will not be tortured, but it will later come out that he was (see Mid-May 2002 and After and April - June 2002). [New York Times, 4/14/2002]
Email Updates
Receive weekly email updates summarizing what contributors have added to the History Commons database
Donate
Developing and maintaining this site is very labor intensive. If you find it useful, please give us a hand and donate what you can.
Donate Now
Volunteer
If you would like to help us with this effort, please contact us. We need help with programming (Java, JDO, mysql, and xml), design, networking, and publicity. If you want to contribute information to this site, click the register link at the top of the page, and start contributing.
Contact Us