!! History Commons Alert, Exciting News
Context of 'February 9-11, 2012: White Supremacists Speak at Prominent Conservative Political Conference, Joined by Republican Lawmaker'
This is a scalable context timeline. It contains events related to the event February 9-11, 2012: White Supremacists Speak at Prominent Conservative Political Conference, Joined by Republican Lawmaker. You can narrow or broaden the context of this timeline by adjusting the zoom level. The lower the scale, the more relevant the items on average will be, while the higher the scale, the less relevant the items, on average, will be.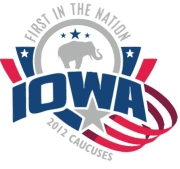 2012 Iowa caucuses logo. [Source: MediaBistro (.com)]As Republican voters in Iowa go to cast their votes for the party's presidential nominee in statewide caucuses, spending by the various candidates in the state is at an all-time high, topping $16 million. Broken down by candidate, the spending on candidate advertising, voter drives, and other political activities is as follows:

Governor Rick Perry (R-TX): $4.3 million from his campaign. Perry's super PAC, Make Us Great Again, has spent $1.6 million.

Representative Ron Paul (R-TX): $2.8 million from his campaign.

Former Governor Mitt Romney (R-MA): $1.5 million from his campaign. His super PAC, Restore Our Future (see June 23, 2011 and January 3, 2012), has spent $2.8 million.

Former Representative Newt Gingrich (R-GA): $980,000 from his campaign. His super PAC, Winning Our Future (see December 19, 2011), has spent $264,000.

Former Senator Rick Santorum (R-PA): $30,000 from his campaign. His super PAC, the Red White and Blue Fund, has spent $530,000.

Representative Michele Bachmann (R-MN): $180,000 from her campaign.
The super PAC expenditures in Iowa primary activities—at least $6 million—far outstrip the $1.5 million spent by outside groups in Iowa in 2004 and the $3.4 million spent in 2008. Spending in upcoming primaries in other states is predicted to be even higher. [NBC News, 1/3/2012; Think Progress, 1/3/2012] The day before the primaries, the New York Times writes a blistering op-ed, "The Slush Funds of Iowa," decrying the "unrelenting arctic blast of campaign ads" featuring "constant negativity" from the various campaigns. The Times calls the super PACs behind most of the ads "essentially septic tanks into which wealthy individuals and corporations can drop unlimited amounts of money, which is then processed into ads that are theoretically made independently of the candidates." The Times says that regardless of the pretense of independence both the super PACs and the candidates maintain, "the PACs are, in fact, a vital part of the campaigns' strategy." The editorial cites an earlier Times report that cited Romney as an example, comparing the upbeat, family-oriented ads aired in Iowa by the Romney campaign with the relentless negative ads aired by his PAC, and saying that Romney "has effectively outsourced his negative advertising to a group that has raised millions of dollars from his donors to inundate his opponents with attacks." The editorial notes, "Mr. Romney's name is never mentioned [in the negative ads], and few [Iowa] viewers will realize that the ad's producers are all close associates of his who worked on his campaign four years ago." [New York Times, 1/2/2012]
The CPAC 2012 logo. The small print at the bottom reads, 'A project of the American Conservative Union.' [Source: CPAC (.org)]The annual Conservative Political Action Conference (CPAC) event, featuring Republican presidential contenders Mitt Romney (R-MA), Newt Gingrich (R-GA), and Rick Santorum (R-PA), also features two noted white supremacists, Peter Brimelow and Robert Vandervoort, as headlined participants. Brimelow, the owner of the anti-immigration, anti-Semitic, and white supremacist Web site VDare.com (see November 26, 2004 and May 2008), is part of a panel discussion titled "The Failure of Multiculturalism: How the Pursuit of Diversity is Weakening the American Identity." Vandervoort, who writes for the anti-immigrant, white supremacist Web site ProEnglish.com and has ties with the supremacist groups American Renaissance (see July 15, 2002 and September 1995) and the Council of Conservative Citizens (see January 23, 2005, June 2, 2009, and April 16, 2011), speaks on a panel discussion about "High Fences, Wide Gates: States vs. the Feds, the Rule of Law, and American Identity." Vandervoort also takes part in the "multiculturalism" panel discussion with Brimelow. [Little Green Footballs, 2/8/2012; Newsone, 2/9/2012; Conservative Political Action Conference, 2/9/2012
] Other Republicans speaking at the conference include Senate Minority Leader Mitch McConnell (R-KY) and Representative Michele Bachmann (R-MN). CPAC also hosts groups such as the anti-gay Family Research Council and the segregationist Youth for Western Civilization. CPAC denied permission for the gay conservative group GOProud to participate in the event, citing the group's "behavior and attitude" as its reason for denying access. Michael Keegan, the president of the liberal organization People for the American Way (PFAW), issued a statement calling on Romney, Santorum, and Gingrich to "speak out" against Brimelow and Vandevoort's participation, and adding, "It's shocking that the CPAC would provide a platform for someone like Brimelow." [Right Wing Watch, 2/8/2012] CPAC's main organizer, the American Conservative Union (ACU), refused to heed calls by Keegan and others to repudiate Brimelow and Vandervoort, instead issuing the following oblique statement through spokeswoman Kristy Campbell: "CPAC is proud to have more than 150 sponsors and exhibitors this year. This panel was not organized by the ACU, and specific questions on the event, content, or speakers should be directed to the sponsoring organization. Cosponsors and affiliated events do not necessarily represent the opinions of the American Conservative Union." [Buzzfeed, 2/8/2012] Conservative blogger Charles Johnson, who in recent years has regularly protested against what he perceives as the increasing prominence of racism on the American political right, writes: "I admit, this one kind of shocks me, and it's not easy to do that any more. I knew the right wing had gone bug-eyed loony, but this is way beyond the usual xenophobia and paranoid bigotry; this is open white nationalism at the Republican right's premier high-profile conference, in an election year. Stunning. Masks are dropping all over Wingnutland." [Little Green Footballs, 2/8/2012] During the panel on multiculturalism, Brimelow and Vandervoort are joined by Representative Steve King (R-IA) in claiming that America's "identity" is being "weakened" by its acceptance of minority citizens and their cultural influence. Vandervoort claims that "leftist thugs" have attempted to prevent him from taking part in the event as part of their larger attempt to "shut down freedom of speech and freedom of assembly." Brimelow calls multiculturalism and bilingualism "diseases" that are infecting American society as they work to empower minorities and "suppress traditional" (i.e. white) citizens. Multiculturalism and bilingualism are, he says, a "ferocious attack on the working class." King discusses his bill that would make English the official language of the United States. King praises Brimelow, telling him that he has "read your books" and says to the gathered onlookers that Brimelow "eloquently wrote about the balkanization of America." [Right Wing Watch, 2/9/2012] The 2011 CPAC event welcomed the far-right, implicitly racist John Birch Society as one of its sponsors (see April 19, 2010 and December 2011). That year, some conference participants stated their opposition to having white supremacists taking part in the event, opposition that apparently was not raised this year. And in 2011, Joseph Farah, the publisher of WorldNetDaily, was not part of CPAC because organizers did not want him discussing his questions about President Obama's citizenship (see May 18, 2009 and March 24, 2011). This year, Farah is allowed to return." [MaddowBlog, 2/9/2012]
Entity Tags: Rick Santorum, Robert Vandervoort, ProEnglish (.com), VDare (.com ), Willard Mitt Romney, Steve King, Newt Gingrich, Youth for Western Civilization, Mitch McConnell, Peter Brimelow, Michael Keegan, Charles Johnson, American Conservative Union, American Renaissance, Council of Conservative Citizens, Family Research Council, Conservative Political Action Conference, John Birch Society, Kristy Campbell, GOProud, Michele Bachmann, Joseph Farah
Timeline Tags: Domestic Propaganda
Republican presidential candidates Mitt Romney (R-MA) and Rick Santorum (R-PA) refuse to condemn conservative talk show host Rush Limbaugh for his vociferous attacks on the character and motivations of Georgetown University law student Sandra Fluke (see February 29, 2012, March 1, 2012, and March 2, 2012), who testified in opposition to a House amendment that would have allowed health care providers to deny contraceptive coverage and other health care necessities if they had religious or moral objections (see March 1, 2012). Romney tells a reporter: "It's not the language I would have used. I'm focusing on the issues that I think are significant in the country today, and that's why I'm here talking about jobs in Ohio." Santorum calls Limbaugh's comments "absurd," but says that Limbaugh, as a mere entertainer (see December 17, 2004), "can be absurd." Fellow candidate Newt Gingrich (R-GA) does not comment directly on either Limbaugh or Fluke, but condemns President Obama's telephone call of support to Fluke (see March 2, 2012) as "opportunistic." [Los Angeles Times, 3/2/2012; MSNBC, 3/2/2012] Obama campaign advisor David Axelrod posts the following on Twitter: "Rush's vile, appalling assault on Sandra Fluke deserves universal condemnation. How can folks who call themselves leaders walk away?" MSNBC political analyst Karen Finney says of Romney's comment: "What a coward!… We are witnessing the absolute final straw in the takeover of the Republican Party by the right wing.… These guys are, you know, cowering in the corner, so afraid to say to [Limbaugh], 'You can't talk about our daughters, our sisters, our mothers, our grandchildren this way,' that that kind of language isn't acceptable. That sends a very clear message." Women are going to stand up to the Republicans' increasing attacks on their fundamental rights, Finney says. [MSNBC, 3/2/2012]
Email Updates
Receive weekly email updates summarizing what contributors have added to the History Commons database
Donate
Developing and maintaining this site is very labor intensive. If you find it useful, please give us a hand and donate what you can.
Donate Now
Volunteer
If you would like to help us with this effort, please contact us. We need help with programming (Java, JDO, mysql, and xml), design, networking, and publicity. If you want to contribute information to this site, click the register link at the top of the page, and start contributing.
Contact Us