!! History Commons Alert, Exciting News
Context of 'April 10, 2004: Key Al-Qaeda Figure Operating in Britain and US Becomes Informant'
This is a scalable context timeline. It contains events related to the event April 10, 2004: Key Al-Qaeda Figure Operating in Britain and US Becomes Informant. You can narrow or broaden the context of this timeline by adjusting the zoom level. The lower the scale, the more relevant the items on average will be, while the higher the scale, the less relevant the items, on average, will be.
Mohammed Junaid Babar. [Source: London Times]In early November 2001, a young man using the name Mohammad Junaid appears in several print interviews in Pakistan. He appears unmasked in video interviews shown on CNN in the US and ITN in Britain. He says that he is going to fight US soldiers in Afghanistan with the Taliban even though he is a US citizen and his mother was in the World Trade Center on 9/11 and barely survived the attack. He says, "I will kill every American that I see in Afghanistan, and every American I see in Pakistan." In fact, his full name is Mohammed Junaid Babar. [Boston Globe, 11/6/2001; London Times, 5/3/2007] He is a long-time member of Al-Muhajiroun, a radical Islamist group based in Britain but which also has a New York branch that Babar is involved with. [Guardian, 4/30/2007]
Placed on Watch List and Monitored - Babar is immediately placed on no-fly watch lists and monitored by intelligence agencies. The Washington Post will later report, "US counterterrorism officials said Babar first hit their radar screen in late 2001…" [Washington Post, 7/25/2005] Jon Gilbert, who interviews him in Pakistan in November 2001, will later say, "The authorities had been diligently tracking him since the day our first interview had been aired." Babar left the US shortly after the 9/11 attack, and apparently had no ties with Islamist militants prior to his departure.
Babar Lives in Pakistan, Works with Al-Qaeda - He does not return there for some time. Instead, he lives in Pakistan and frequently makes trips to Britain (but is not stopped from coming or going, despite being on the watch list). He becomes increasingly involved in helping al-Qaeda with logistics, such as fund-raising, supplying equipment from overseas, and helping to set up training camps in Pakistan's tribal regions. He also becomes actively involved in a fertilizer bomb plot in Britain. in 2002, he sometimes he attends talks by radical imam Abu Hamza al-Masri with other members of the fertilizer plot in London's Finsbury Park mosque. [Washington Post, 7/25/2005; Guardian, 4/30/2007; London Times, 5/3/2007]
Monitored Meeting with Key Militants - Meanwhile, intelligence agencies continue to monitor him. Details on such surveillance are scanty, but he apparently is monitored meeting with lead 7/7 London bomber Mohammad Sidique Khan in England in 2003 (see 2003). Newsweek will also later mention that "Babar was tracked flying off [in early 2004] to South Waziristan in Pakistan, where he attended what some analysts believe was a terror summit that included the notorious al-Qaeda operative Adnan Shukrijumah and Dhiren Barot, the operative suspected of casing New York financial institutions a few years earlier" (see March 2004). His Internet use at a public library is also monitored, and he is said to exchange messages with al-Qaeda operatives. [Newsweek, 1/24/2005]
Arrested in US - Babar finally returns to the US on April 6, 2004, although why he does this is a mystery since his confederates in the fertilizer bomb plot had been arrested in Canada, Britain, and Pakistan just days earlier, and their arrests had been immediately publicized (see Early 2003-April 6, 2004). Babar is arrested by the FBI four days after his arrival, and quickly begins completely cooperating with the authorities (see April 10, 2004).
Suspicions He Was US Agent Since 2001 - The London Times will later comment, "Some suggest that he may have already been an FBI agent" before he was arrested. [London Times, 5/3/2007] The BBC will similarly say, "Inevitably there were suspicions that he'd been an FBI agent all along." [BBC, 5/25/2007] But while that issue remains unclear, he proves to be an increasingly valuable source of information about al-Qaeda as more is learned about what he knows. One US law enforcement official will say in late 2005, "This guy's connection to different cells and plots just seems to be expanding. He is the fish that is getting bigger." [Washington Post, 7/25/2005]
According to a later report by the BBC, Mohammad Sidique Khan, the lead bomber in the 7/7 London bombings (see July 7, 2005), is "seen with [al-Qaeda operative Mohammed Junaid Babar] in Leeds in 2003." The BBC will not name Babar for "legal reasons," but the description they give ("he is a United States citizen from a Pakistani family from New York who traveled to Pakistan immediately after the 9/11 attacks") matches Babar exactly. It is believed that US intelligence began monitoring Babar in late 2001 after he proclaimed his desire to kill Americans in several video interviews (see Early November 2001-April 10, 2004). The BBC will not clarify just who sees Babar and Khan together. In 2003, British intelligence is honing in on a fertilizer bomb plot that Babar is involved in, and Khan is connected to some of the plotters. For instance, sometime in early 2003 British intelligence discovers calls between one of the main alleged plotters and a "Siddique Khan" (see Shortly Before July 2003). [BBC, 10/25/2005]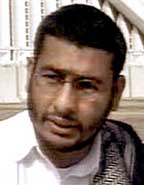 Mohammed Junaid Babar. [Source: CBS News]On April 10, 20004 a Pakistani-American al-Qaeda operative named Mohammed Junaid Babar is arrested by federal agents in Long Island City, New York. Babar has just flown to the US from Britain four days earlier, after a group of his associates were arrested for planning a fertilizer bomb plot (see March 2003 and After). Babar begins cooperating with the authorities almost immediately. He confesses to:

Participating in the bomb plot.

Meeting senior al-Qaeda leaders in the Pakistani tribal region.

Buying supplies, including night-vision goggles, for al-Qaeda and Taliban militants.

Passing funds to al-Qaeda from supporters in Britain.

Setting up a militant training camp in Pakistan.

Arranging lodging and transportation for recruits attending his camp.
Babar's arrest is not immediately made public. On June 3, he secretly pleads guilty to charges of supporting a terrorist organization. His arrest is made public on June 11. He faces up to 70 years in prison, but will have his sentenced greatly reduced in return for fully cooperating and testifying against others. Babar grew up in the US, but went to Pakistan shortly after 9/11 to fight with al-Qaeda. He was interviewed on television there several weeks after 9/11 proudly proclaiming his desire to kill Americans, and as a result was put on a US watch list and monitored. He spent the next years traveling between Pakistan and Britain, and was even monitored heading to a secret al-Qaeda summit in Pakistan in March 2004 (see Early November 2001-April 10, 2004 and March 2004). [CNN, 6/11/2004; Los Angeles Times, 9/3/2004]
Email Updates
Receive weekly email updates summarizing what contributors have added to the History Commons database
Donate
Developing and maintaining this site is very labor intensive. If you find it useful, please give us a hand and donate what you can.
Donate Now
Volunteer
If you would like to help us with this effort, please contact us. We need help with programming (Java, JDO, mysql, and xml), design, networking, and publicity. If you want to contribute information to this site, click the register link at the top of the page, and start contributing.
Contact Us