Context of 'June 22, 2008: Article: Pakistani Border Forces Helping Taliban Attack US Troops in Afghanistan'
This is a scalable context timeline. It contains events related to the event June 22, 2008: Article: Pakistani Border Forces Helping Taliban Attack US Troops in Afghanistan. You can narrow or broaden the context of this timeline by adjusting the zoom level. The lower the scale, the more relevant the items on average will be, while the higher the scale, the less relevant the items, on average, will be.
Pakistan's tribal region, shown in various colors, while the rest of Pakistan is in green. FATA stands for Federally Administered Tribal Areas, the bureaucratic name for the area. [Source: Public domain via Wikipedia]Thousands of al-Qaeda-linked militants have been regrouping in the Pakistan tribal region of South Waziristan (see Late May 2002 and June 2002). By late 2002, these forces begin regularly attacking US outposts, also known as firebases, just across the border in Afghanistan. In December 2002, the US is forced to abandon the Lawara firebase after phosphorus rockets fired on the base burn US Special Forces vehicles. US military officials begin to complain that the Pakistani government's Frontier Corps is not only turning a blind eye to these attacks, but is actually helping al-Qaeda forces cross the border and providing covering fire for their attacks. US forces are not allowed to pursue al-Qaeda forces across the Pakistan border (see Early 2002 and After). In January 2003, US commander Lieutenant General Dan McNeill publicly speaks out about the situation despite orders from his superiors not to. He says, "US forces acknowledge the internationally recognized boundaries of Afghanistan, but may pursue attackers who attempted to escape into Pakistan to evade capture or retaliation." Around the same time, the US media begins to report that the Pakistani government is allowing militants to attack US positions across the border (see December 2002-February 2003). Pakistan comes under increasing pressure to do something, but takes no action. Confident of their position, militants begin killing tribal elders who they suspect are not loyal to them, further cementing their control and causing many to flee. Some fleeing locals claim that the Pakistani ISI is frequently meeting with al-Qaeda and Taliban leaders there, such as Taliban leader Jalaluddin Haqqani, and apparently supporting them. [Rashid, 2008, pp. 440] The Pakistani army commander in the region, Lieutenant General Ali Jan Orakzai, is considered a close friend of Pakistani President Pervez Musharraf. It is believed he intensely hates the US and NATO, and has sympathy for the Taliban. He will later call them a "national liberation movement." [Rashid, 2008, pp. 277, 384] The Pakistani army will finally launch its first limited attack against al-Qaeda in October 2003 (see October 2, 2003).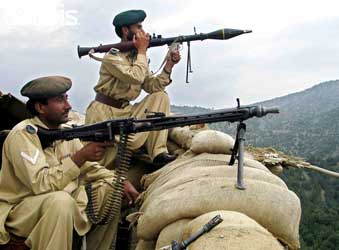 Members of the Frontier Corps near Shakai, in the region of South Waziristan, in August 2004. [Source: Kamran Wazir / Reuters / Corbis]The British newspaper The Observer reports that the Frontier Corps, a Pakistani government paramilitary force operating in Pakistan's tribal regions near the border with Afghanistan, sometimes join in attacks on US-led forces in Afghanistan. The article alleges there are "box loads" of after-action reports compiled after armed clashes near the border, detailing the Frontier Corps working with the Taliban and other allied militants. Some attacks are launched so close to Frontier Corps outposts that Pakistani cooperation with the Taliban is assumed. There has been a dramatic increase in cross-border incidents compared to the same time the year before. An anonymous US official says: "The United States and NATO have substantial information on this problem. It's taking place at a variety of places along the border with the Frontier Corps giving direct and indirect assistance. I'm not saying it is everyone. There are some parts that have been quite helpful… but if you have seen the after-action reports of their involvement in attacks along the Afghan border you would appreciate the problem." The US government continues to downplay such incidents, worried about its relationship with the Pakistani government. A NATO spokesman says: "The real concern is that the extremists in Pakistan are getting safe havens to rest, recuperate and retool in Pakistan and come across the border. The concerns have been conveyed to the Pakistan authorities." [Observer, 6/22/2008]
Email Updates
Receive weekly email updates summarizing what contributors have added to the History Commons database
Donate
Developing and maintaining this site is very labor intensive. If you find it useful, please give us a hand and donate what you can.
Donate Now
Volunteer
If you would like to help us with this effort, please contact us. We need help with programming (Java, JDO, mysql, and xml), design, networking, and publicity. If you want to contribute information to this site, click the register link at the top of the page, and start contributing.
Contact Us