!! History Commons Alert, Exciting News
Shortly After August 21, 1997: Important Al-Qaeda Contacts Discovered through Seized Address Book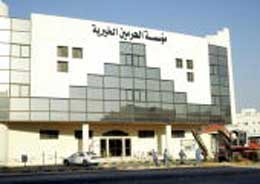 Al Haramain Islamic Foundation's main office in Riyadh, Saudi Arabia. [Source: Bilal Qabalan / Agence France-Presse / Getty Images]Wadih El-Hage has been bin Laden's personal secretary since the early 1990s. When US agents raid his house in Nairobi, Kenya, they seize his address book (see August 21, 1997), which contains the names and phone numbers for many other al-Qaeda operatives. [CNN, 5/25/2001] The names discovered in the book include:

Ali Mohamed, the al-Qaeda double agent living in California. US investigators are already tapping his California phone and have been tapping calls between him and El-Hage since at least 1996 (see April 1996).

Mamoun Darkazanli. He is a Syrian-born businessman living in Hamburg, Germany, who has contacts with Mohamed Atta's al-Qaeda cell in the same city. Darkazanli's name and phone number are listed, and El-Hage even has a business card listing El-Hage's address in Texas and Darkazanli's address in Hamburg (see Late 1998).

Ghassan Dahduli. He works at two US non-profit organizations, the Islamic Association for Palestine and InfoCom. Both organizations will be shut down for supporting terrorist networks (see September 16, 1998-September 5, 2001).

Salah al-Rajhi (see Shortly After August 21, 1997). He and his brother of Sulaiman Abdul Aziz al-Rajhi, are billionaires and jointly own the Al-Rajhi Banking & Investment Corp. Sulaiman started a network of organizations in Herndon, Virginia known as the SAAR network (named for the four initials in his name). This network will be raided by US officials in 2002 for suspected terrorist funding ties (see March 20, 2002). [Newsweek, 12/9/2002]

Ihab Ali Nawawi, an al-Qaeda operative living in Florida. He is referred to as "Ihab Ali" and his location in Tampa, Florida, is mentioned. He will not be arrested until May 1999 (see May 18, 1999). [United States of America v. Usama Bin Laden, et al., Day 39, 5/3/2001]

Essam Marzouk. He is linked to both al-Qaeda and Islamic Jihad and is living in Vancouver, Canada at the time. He will later train the 1998 embassy bombers. It is unclear if the link to Marzouk is shared with Canadian intelligence (see Shortly After August 21, 1997). [National Post, 3/19/2002]

Essam al Ridi. He is a US citizen and a pilot who helped bin Laden buy an airplane in the US in the early 1990s (see Early 1993). He appears to have no militant ties after that. In late 1999, US prosecutors will contact al Ridi where he is living in Bahrain and convince him to testify against El-Hage and others involved in the 1998 embassy bombings (see 10:35-10:39 a.m., August 7, 1998). [CNN, 7/2/2002]

Farid Adlouni. He is a civil engineer living in Lake Oswego, Oregon. In 1996 and 1997, El-Hage calls Adlouni in Oregon 72 times, sometimes just before or after meeting with bin Laden. Adlouni's home phone and fax numbers are be found in two personal phone directories and one notebook kept by El-Hage (see Shortly After August 21, 1997). Earlier in 1997, El-Hage also sent him a fax written by al-Qaeda leader Mohammed Atef (see Febuary 25, 1997). Records show that El-Hage has extensive dealings with Adlouni, mostly by selling gems El-Hage bought in Africa for a better price in the US. The FBI interviews Adlouni twice in late 1997, but he is not arrested. As of 2002, it will be reported that he continues to live in Oregon and remains a "person of interest" and subject of investigation by the FBI. [Oregonian, 9/13/2002]

Khalid al-Fawwaz. He is al-Qaeda's de facto press secretary in London. El-Hage gives al-Fawwaz's correct name, London phone number, and street address, but lists him as living in Texas. Presumably this is a slight attempt at subterfuge. [United States of America v. Usama Bin Laden, et al., Day 38, 5/2/2001]

A business card in the name Mamdouh M. Salim is found. This is a reference to Mamdouh Mahmud Salim, a known al-Qaeda leader. [United States of America v. Usama Bin Laden, et al., Day 37, 5/1/2001]

A business card belonging to Mansour al-Kadi is found. [New Yorker, 4/21/2008] Al-Kadi is the Deputy General of the Al Haramain Islamic Foundation, a suspect Saudi charity closely linked to the Saudi government. Al-Kadi will be fired in early 2004 and the entire foundation will be shut down several months later (see March 2002-September 2004). The Treasury Department will later say that Al Haramain has a role in the 1998 African embassy bombings (see Autumn 1997). [US Treasury Department, 9/9/2004]

Several business cards relating to the International Islamic Relief Organization (IIRO). A 1996 CIA report connected the IIRO to terrorist funding, but the IIRO will not be prosecuted due to its close ties to the Saudi government (see January 1996 and October 12, 2001). [Newsweek, 12/9/2002]

According to author Douglas Farah, the address book is "full of the names of diamond dealers and jewelers, often including the purchaser's home phone number." This suggests al-Qaeda could be profiting from the diamond trade in Africa. [Farah, 2004, pp. 64-65]
But Farah also will note in 2004 that many of the leads from El-Hage's address book and other documents discovered around the same time are not fully explored. In fact, he says that "Most of El-Hage's notebooks, written in Arabic, have still not been translated into English." [Farah, 2004, pp. 64-65]
Entity Tags: Ihab Ali Nawawi, International Islamic Relief Organization, Mamdouh Mahmud Salim, Khalid al-Fawwaz, Mamoun Darkazanli, Ghassan Dahduli, Farid Adlouni, Ali Mohamed, Essam Marzouk, Essam al Ridi, Wadih El-Hage, Salah al-Rajhi, Mansour al-Kadi, Al Haramain Islamic Foundation
Timeline Tags: Complete 911 Timeline
Email Updates
Receive weekly email updates summarizing what contributors have added to the History Commons database
Donate
Developing and maintaining this site is very labor intensive. If you find it useful, please give us a hand and donate what you can.
Donate Now
Volunteer
If you would like to help us with this effort, please contact us. We need help with programming (Java, JDO, mysql, and xml), design, networking, and publicity. If you want to contribute information to this site, click the register link at the top of the page, and start contributing.
Contact Us