!! History Commons Alert, Exciting News
Context of 'October 31, 2007: 21 People Found Guilty of Role in 2004 Madrid Bombings, but Alleged Mastermind Found Innocent'
This is a scalable context timeline. It contains events related to the event October 31, 2007: 21 People Found Guilty of Role in 2004 Madrid Bombings, but Alleged Mastermind Found Innocent. You can narrow or broaden the context of this timeline by adjusting the zoom level. The lower the scale, the more relevant the items on average will be, while the higher the scale, the less relevant the items, on average, will be.
Beginning on January 17, 2003, Spanish police begin monitoring an apartment on Virgen de Coro street in Madrid owned by the brothers Moutaz and Mouhannad Almallah. Moutaz owns it but lives in London, so Mouhannad is the landlord and works there every day as well. Police were tipped off about the house earlier in the month by Mouhannad's estranged wife. She revealed that a group of Islamist militants are regularly meeting there (see January 4, 2003). [El Mundo (Madrid), 8/10/2005] Both Almallah brothers ties to known al-Qaeda figures such as Barakat Yarkas and radical imam Abu Qatada, and Moutaz moved to London in August 2002 to live with Qatada (see August 2002). In 2007, an unnamed Spanish police officer testifying in the Madrid bombings trial will give details about the surveillance of the apartment. He will call it an important place for both meetings and recruitment. The police note that both brothers travel frequently to and from London and also regularly call London. These calls are usually followed by calls to the Middle East or North Africa. Police are aware that Moutaz has no job in London and is in the circle of people around Abu Qatada (although Abu Qatada himself was arrested in late 2002 see (see October 23, 2002)). Basel Ghalyoun and Fouad el Morabit live at the apartment and frequently meet there with Mouhannad Almallah and Serhane Abdelmajid Fakhet. [El Mundo (Madrid), 3/21/2007] Ghalyoun will later admit that in early 2003, Fakhet began to "talk of carrying out an attack in Spain, making jihad…" He will say that others attending jihad meetings at the apartment in 2003 include Arish Rifaat and Rabei Osman Sayed Ahmed. [El Mundo (Madrid), 10/15/2005] Mohammed Larbi ben Sellam is also frequently seen there. [El Mundo (Madrid), 9/28/2004] The surveillance intensifies in subsequent months, and soon the apartment is monitored with video as well (see Spring 2003 and After). Police will keep watching the apartment until arrests are made after the March 2004 Madrid train bombings (see 7:37-7:42 a.m., March 11, 2004). Rifaat, Fakret, and others will allegedly blow themselves up shortly after the Madrid bombings (see 9:05 p.m., April 3, 2004). There are allegations Fakret was an informant (see Shortly After October 2003). Mouhannad Almallah, Ghalyoun, ben Sellam, and el Morabit will be convicted in 2007 and each sentenced to 12 years for roles in the bombings (see October 31, 2007). Ahmed will be convicted of different charges in Italy (see October 31, 2007). Curiously, when the apartment is raided shortly after the Madrid bombings, two documents belonging to police officer Ayman Maussili Kalaji will be found inside. Kalaji will admit to having a friendship with Moutaz Almallah dating back at least to 1995 (see May 16, 2005).
Carmen Toro. [Source: Spanish Interior Ministry]In September 2003, Emilio Suarez Trashorras, Rafa Zouhier, Antonio Toro, his wife Carmen Toro, Rachid Aglif, Jamal Ahmidan (alias "El Chino"), and Mohammed Oulad Akcha meet at a McDonald's restaurant in Madrid. The first five people are linked to a mine in the Asturias region of Spain and have no Islamist militant background. Ahmidan and Akcha are members of a group of Islamist militants and are meeting the others to buy explosives stolen from the mine. Ahmidan goes to Asturias at least five times from December 2003 to February 2004 to work out the explosives deal. He, Akcha, and others in their militant group will then use the explosives in the March 2004 Madrid train bombings (see 7:37-7:42 a.m., March 11, 2004). Interestingly, at least four of the five—Trashorras, Zouhier, and both Toros—are government informants at the time. Supposedly, none of them tell their handlers about this explosives deal. [El Mundo (Madrid), 6/10/2004] However, Zouhier will later claim that he repeatedly told his handler about the deal. He will say: "I told them. I mentioned all the suspicions I had regarding the explosives. In 2003 I warned that 'these people want to sell 150 kilos'. I told them 1,000 times." [Agence France-Presse, 2/28/2007] His handler, known by the alias Victor, will initially dispute this, but in 2007 he will finally admit that Zouhier did tell him in March 2003 that Trashorras and Antonio Toro were dealing in stolen explosives and had 150 kilograms of explosives ready to sell. Zouhier even passed on that they asked him about using cell phones as detonating devices. Police then began monitoring Trashorras and Toro (see March 2003). Trashorras, Zouhier, and Aglif will eventually be sentenced to various prison terms, while the Toros will be acquitted. Trashorras will get life in prison (see October 31, 2007).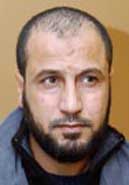 Rabei Osman Sayed Ahmed. [Source: Associated Press]The trial of 28 people accused of a role in the 2004 Madrid train bombings comes to an end, and 21 are found guilty. However, only three are convicted of murder and are given life sentences: Jamal Zougam, Othman El Gnaoui, and Emilio Suarez Trashorras. Seven of the principal bombers blew themselves up one month after the bombings (see 9:05 p.m., April 3, 2004). None of the accused confessed, making convictions difficult. Rabei Osman Sayed Ahmed was accused of being the bombing mastermind. While living it Italy, he reportedly bragged, "I was the leader of Madrid," and "the Madrid bombings were my project, and those who died as martyrs there were my beloved friends." But his defense attorneys argued successfully that the tapes were mistranslated and so they were thrown out as evidence. A counterterrorism expert says the court appeared to have a very strict standard of admissible evidence. However, Ahmed is serving a ten-year prison sentence in Italy based on unrelated charges. [Washington Post, 11/14/2004; MSNBC, 10/31/2007; New York Times, 11/1/2007] Many victims' relatives complain that the sentences are too lenient. And a spokesperson for Spain's main opposition party comments, "We still don't know who gave the order, we still don't know who built those bombs, and we still don't know who was the coordinator of these cells that carried out these attacks." [BBC, 11/1/2007] Some of the other verdicts:

Hamid Ahmidan - 23 years.

Rachid Aglif - 18 years.

Abdelmajid Bouchar - 18 years.

Basel Ghalyoun - 12 years.

Mohammed Larbi ben Sellam - 12 years.

Fouad el Morabit - 12 years.

Mouhannad Almallah - 12 years.

Rafa Zouhier - 10 years.

Youssef Belhadj - 12 years.

Antonio Toro - Acquitted.

Carmen Toro - Acquitted. [El Mundo (Madrid), 11/1/2007]
Entity Tags: Rachid Aglif, Mouhannad Almallah, Othman El Gnaoui, Rabei Osman Sayed Ahmed, Rafa Zouhier, Mohammed Larbi ben Sellam, Emilio Suarez Trashorras, Hamid Ahmidan, Abdelmajid Bouchar, Antonio Toro, Basel Ghalyoun, Carmen Toro, Fouad el Morabit, Jamal Zougam, Youssef Belhadj
Timeline Tags: Complete 911 Timeline
Email Updates
Receive weekly email updates summarizing what contributors have added to the History Commons database
Donate
Developing and maintaining this site is very labor intensive. If you find it useful, please give us a hand and donate what you can.
Donate Now
Volunteer
If you would like to help us with this effort, please contact us. We need help with programming (Java, JDO, mysql, and xml), design, networking, and publicity. If you want to contribute information to this site, click the register link at the top of the page, and start contributing.
Contact Us