!! History Commons Alert, Exciting News
Context of 'November 9, 2000: Former Federal Prosecutor Charged with Hiding Evidence in Davidian Investigation, Pleads Guilty'
This is a scalable context timeline. It contains events related to the event November 9, 2000: Former Federal Prosecutor Charged with Hiding Evidence in Davidian Investigation, Pleads Guilty. You can narrow or broaden the context of this timeline by adjusting the zoom level. The lower the scale, the more relevant the items on average will be, while the higher the scale, the less relevant the items, on average, will be.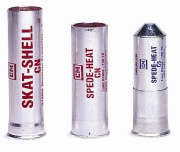 Pyrotechnic CS gas canisters. [Source: Law Enforcement Equipment Distribution]According to newly presented documents, the FBI used two or three pyrotechnic tear gas canisters during the raid on the Branch Davidian compound near Waco, Texas (see April 19, 1993). The documents contradict earlier FBI and Justice Department claims that law enforcement officials did nothing that could have contributed to the fire that killed over 80 sect members. Former senior FBI official Danny Coulson begins the revelations by admitting to the Dallas Morning News that the FBI had indeed used pyrotechnic grenades, though he says the grenades did not start the fires that consumed the building. Texas Department of Public Safety Commission Chairman James Francis says the Texas Rangers have "overwhelming evidence" supporting Coulson's statement. "There are written reports by Rangers, there is photographic evidence, there is physical evidence, all three of which are problematic," Francis says. Coulson, the founder of the FBI's Hostage Rescue Team and a former assistant deputy director, says that two M651 CS tear gas grenades were fired into the building, but they were fired hours before the blazes erupted. Attorney General Janet Reno, who tells reporters she knew nothing of the grenade usage and is "very, very frustrated" at the knowledge, appoints former Senator John C. Danforth (R-MO) as the head of an investigatory commission (see September 7-8, 1999); Danforth will find that, regardless of the use of the pyrotechnic gas canisters, law enforcement officials were not responsible for the fire, and neither the FBI nor the Justice Department tried to cover up any actions (see July 21, 2000). [PBS Frontline, 10/1995; Dallas Morning News, 8/25/1999; Salon, 9/9/1999] The military M651 canisters, which burn for about 30 seconds to heat and release the solidified tear gas inside, were fired from a Bradley fighting vehicle at a bunker near the main building (see September 3, 1999). After the assault, a Texas Ranger found a spent 40mm gas canister shell lying on the ground and asked a nearby FBI agent, "What's this?" The agent promised to find out, but never returned with an answer; the shell went into evidence containers (see August 10, 1999 and After). Two weeks after the FBI acknowledges the use of incendiary gas canisters at the Waco assault, Reno testifies on the matter to the House Judiciary Committee. She says that, based on the briefings she had been given (see April 17-18, 1993), "It was my understanding that the tear gas produced no risk of fire.… That fire was set by David Koresh and the people in that building." After her testimony, Senate Majority Leader Trent Lott (R-MS) calls on Reno to resign. [Newsweek, 9/6/1999; Associated Press, 9/10/1999] FBI agent Byron Sage, the chief negotiator during the Davidian standoff, will say in 2003 that the incendiary gas canisters could not have set the fires. "This is the critical point, the M651 rounds were never directed towards the wooden structure," he will say. "They were used in an area yards away from the building. Also, they were used earlier in the day. The fire didn't start until four hours later. They had absolutely nothing to do with that fire." Sage will say that the canisters were fired only at a construction pit near the compound where other gas-discharging devices had been smothered in mud. The pit was targeted because some Davidian gunfire during the ATF raid had come from that area, he will say. [Waco Tribune-Herald, 3/16/2003] Charles Cutshaw, an editor of Jane's Defense Information and an expert on this kind of weapon, says these military tear gas cartridges are not intended to start fires. He says he knows of no studies or reports on how often such cartridges may have caused fires. [Washington Post, 9/4/1999] Shortly after the admission, federal prosecutor Bill Johnston, one of the lawyers for the government in the wrongful-death lawsuit filed by surviving Davidians (see April 1995), informs Reno that government lawyers had known for years about the use of pyrotechnic tear-gas rounds (see August 30, 1999). Johnston will be removed from the lawsuit and replaced by US Attorney Michael Bradford. [Fort Worth Star-Telegram, 7/21/2000] He will also plead guilty to concealing evidence from investigators concerning the canisters (see November 9, 2000).
Entity Tags: FBI Hostage Rescue Team, Bill Johnston, Danny Coulson, Byron Sage, Branch Davidians, Federal Bureau of Investigation, James B. Francis Jr, Trent Lott, Janet Reno, US Department of Justice, John C. Danforth, Texas Rangers, Charles Cutshaw, Michael Bradford
Timeline Tags: 1993 Branch Davidian Crisis
Former Senator John Danforth (R-MO), the newly empaneled special counsel who will head a government investigation of the FBI's actions that led up to the 1993 debacle at the Branch Davidian compound near Waco (see April 19, 1993 and September 7-8, 1999), says his investigation will answer "the dark questions" still pending six years later. "Was there a cover-up? Did the government kill people? How did the fire start? And was there shooting?" Danforth asks, ticking off the issues he hopes to resolve. "Those are questions that go to the basic integrity of government, not judgment calls." Danforth says the investigation will focus primarily on the events of April 19, 1993, the final day in a 51-day standoff between the FBI and the Davidians, including allegations that FBI agents fired at the compound during that final assault and military personnel took part in the assault (see August 28, 1999). As a "special counsel," Danforth can impanel a grand jury and seek federal charges. "I come into this with a totally open mind," Danforth says, with Attorney General Janet Reno standing at his side. "I come into this with the notion that the chips should fall where they may. And that's going to happen." Congressional Republicans praise Danforth's appointment, while President Clinton calls him honorable and intelligent, and says, "Based on what I know of him, it [Danforth's selection] was a good move by the attorney general." Reno says she will turn over future decisions on Danforth's investigation to her deputy, Eric Holder, in the interests of impartiality. Danforth says he will use private-sector investigators rather than FBI agents to do the actual investigating. US Attorney Edward Dowd of St. Louis, a Democrat, will resign his position to join Danforth as his chief assistant. [Knight Ridder, 9/10/1999; Associated Press, 9/10/1999]
Former federal prosecutor William "Bill" Johnston is indicted for obstructing the investigation of special counsel John Danforth, who led a government probe into the Branch Davidian debacle near Waco, Texas (see April 19, 1993, September 7-8, 1999, and July 21, 2000). Johnston, a former US attorney in Waco, is accused of concealing information about the FBI's use of pyrotechnic CS gas rounds during the final assault on the Davidian compound (see August 25, 1999 and After). Danforth, a former Republican senator, says he preferred to release the investigation report without prosecuting anyone, but says the charges against Johnston are too severe to ignore. "I couldn't just shrug it off," Danforth says. Johnston is accused of hiding his notes about the use of incendiary tear gas rounds from the Justice Department and Congress. He is also accused of later lying about the notes to Danforth's investigators and to the grand jury. Johnston has admitted to hiding his notes, but also helped bring the information about the incendiary gas rounds to the public. "My actions were foolish, regrettable, and wrong, but they were not criminal," Johnston says. "I can't confess to concealing the pyrotechnics when I was the government employee most responsible for disclosing them. And I can't take full blame when there is so much blame to be spread around." Danforth's report found no evidence of a widespread government conspiracy to cover up the use of the pyrotechnic gas rounds, but asserted that members of the Justice Department's prosecution team had failed to give information about the rounds to Davidian defense lawyers during a criminal trial in 1994 (see January-February 1994). The report also criticized two FBI evidence technicians, Richard Crum and James Cadigan, who checked the crime scene for failing to keep notes and giving evasive statements on their findings. Johnston says he hid his notes to protect himself from "enemies" in the Justice Department. "Certain people leaked a memo to the news media making it appear—falsely—that I attended a 1993 meeting at which the term 'pyrotechnic' was used," Johnston says. "In any event, when I uncovered the notes, only days after the memo was leaked, I panicked, because I had just been ordered to place all my trial material in the hands of the people behind the smear campaign. I should have turned those notes over anyway and suffered the consequences, but I didn't." Danforth says that two other prosecutors on the trial, Ray Jahns and LeRoy Jahns, knew about the pyrotechnic gas rounds but did not disclose their knowledge. However, Danforth says there is not enough "tangible" evidence against the two to file charges. "There is a difference between what I believe and conclude and what I can prove beyond a reasonable doubt," he says. [St. Louis Post-Dispatch, 11/9/2000] Johnston will accept a plea-bargain deal that gives him two years' probation and 200 hours of community service in return for an admission of guilt. He will tell the court: "Whatever my reason [for withholding his notes], it was wrong. It will never be right to withhold something in fear or panic or whatever reason." [Associated Press, 6/7/2001] In August 1999, Johnston wrote to Attorney General Janet Reno that he believes unnamed Justice Department officials were concealing evidence from her (see August 30, 1999).
Email Updates
Receive weekly email updates summarizing what contributors have added to the History Commons database
Donate
Developing and maintaining this site is very labor intensive. If you find it useful, please give us a hand and donate what you can.
Donate Now
Volunteer
If you would like to help us with this effort, please contact us. We need help with programming (Java, JDO, mysql, and xml), design, networking, and publicity. If you want to contribute information to this site, click the register link at the top of the page, and start contributing.
Contact Us