!! History Commons Alert, Exciting News
Profile: Dana Loesch
Dana Loesch was a participant or observer in the following events:
Six people, including a local reporter, are arrested outside a public forum called by Representative Russ Carnahan (D-MO) at a middle school gymnasium outside of St. Louis. The forum, planned to allow constituents to discuss aging issues with Carnahan, quickly becomes contentious, with an overflow crowd denied entrance to the gymnasium and left to protest and wave signs in the parking lot. Many of the protesters are from a local anti-tax and anti-health care reform "tea party" organization. Local Democratic organizations counter with their supporters.
Altercations in Parking Lot - Verbal, and later physical, altercations erupt between reform supporters and opponents. Six people are arrested outside the gym, including St. Louis Post-Dispatch reporter Jake Wagman, for interference after he refuses to stop taking pictures of the altercations. One of those arrested, reform supporter Brian Matthews, calls the situation outside the gym "a bull rush," and adds, "It all came from behind." After the forum, Matthews and a friend, Javonne Spitz, attempt to photograph a man who appears as if he has been assaulted. The police object, and, as Matthews tells it, several officers "charge" them "from behind." The police push Matthews to the ground and arrest him for interference; Spitz is pepper-sprayed "after she was subdued by the police," Matthews says, causing her to vomit as they are taken into custody. A woman is arrested for assault and destruction of property for pushing a woman who is recording the events on her cell phone, then taking the phone from her and breaking it. A man is arrested for refusing to leave a circle of people surrounding Matthews's pepper-sprayed friend. A police spokesman later says: "You've got to understand—we're at a very volatile situation, we've got 800 people and we've got to maintain order. [The police] did what they had to do." [St. Louis Post-Dispatch, 8/7/2009; St. Louis Post-Dispatch, 8/7/2009]
Kenneth Gladney - Conservative activist Kenneth Gladney claims to have been attacked by several of those arrested as he attempts to hand out yellow flags with "Don't Tread on Me" printed on them; police later confirm that two men were arrested for assaulting someone attempting to hand out flags and fliers. A reporter interviews Gladney as he awaits treatment at a local emergency room for injuries he says he suffered to his knee, back, shoulder, elbow, and face. Gladney, an African-American, says one of his assailants used a racial slur against him. "It just seems there's no freedom of speech without being attacked," he says. Gladney later affirms that he had been hired by the St. Louis Tea Party organization to hand out flags, and adds, "I was attacked for something I believe in." [St. Louis Post-Dispatch, 8/7/2009; St. Louis Post-Dispatch, 8/7/2009] He appears on several conservative TV and radio shows, including those hosted by Laura Ingraham and Bill O'Reilly, where he tells his interviewers that he was punched in the face by three different people and kicked by a fourth. Unfortunately for his claim, he appears in perfect health on the broadcasts, with no indication of swelling or bruising. [Daily Kos, 8/8/2009] Tim Tagaris, the new media director for the Service Employees International Union (SEIU), later sends an e-mail and links to photos taken during the altercation which contradict Gladney's tale. According to Tagaris, the photos show an SEIU member getting off the ground holding his shoulder. Gladney is identified as an African-American male in a khaki (or gray) shirt "walking around just fine after the altercation." Tagaris says it is only after he begins appearing on talk shows that he takes to a wheelchair (see August 8, 2009). [Daily Kos, 8/9/2009]
Loud Attempts to Protest Health Care Reform - Inside the gym, protesters attempt to turn the discussion from the topic of the elderly to health care, an issue they apparently wish to shout down. "This isn't even close to civil," one audience member says after the forum. "The rudeness was beyond compare." An elderly audience member calls the forum "a complete waste of time." After the meeting, Carnahan says: "Sadly we've seen stories about disrupters around the country, and we have a handful of them here in Missouri. Instead of participating in a civil debate, they have mobilized with special interests in Washington who have lined their pockets by overcharging Americans for a broken health care system." [St. Louis Post-Dispatch, 8/7/2009] The next day, Carnahan says: "Sadly, they got out of control on both sides. That's not helpful, and I condemn that activity.… Let's have a spirited debate, a debate worthy of our country." A member of the St. Louis Tea Party who attended another forum, local radio show host Dana Loesch, says: "Last night, it was a whole different scene. That's not what this should be about." Defending her colleagues, she adds: "I can't blame them for being frustrated, but there are ways to handle this without calling these people mobs. This isn't an angry mob." SEIU spokeswoman Ramona Oliver says her union has no intention of confronting angry protesters. "The members didn't come to talk to the angry mob outside, they came to talk to the congresspeople inside," she says. "All our members want is to have a civil discussion. There is no campaign to confront the tea baggers." [St. Louis Post-Dispatch, 8/7/2009]
Entity Tags: Javonne Spitz, Brian Matthews, Dana Loesch, Kenneth Gladney, Jake Wagman, Laura Ingraham, Bill O'Reilly, Tim Tagaris, Russ Carnahan, Service Employees International Union, St. Louis Tea Party, St. Louis Post-Dispatch
Timeline Tags: US Health Care, Domestic Propaganda, US Domestic Terrorism
Excerpt from the opening credits of 'Fire from the Heartland.' [Source: Adrienne Royer]A new political film from conservative activist group Citizens United labels President Obama a "gangsta," and compares him to a Chicago mobster. The film, titled Fire from the Heartland: the Awakening of the Conservative Woman, is ostensibly a celebration of conservative women, but spends much of its runtime attacking Obama and his administration's policies. The film is written, directed, and co-produced by Stephen Bannon, who co-founded the National Tea Party Federation in April in part to combat charges that tea party organizations promote racism (see June 30, 2009, July 27, 2009, July 28, 2009, August 4, 2009, and August 11, 2009). The film profiles 15 female conservative politicians, pundits, and tea party activists, including Ann Coulter, Michelle Malkin, S.E. Cupp, Dana Loesch, Michelle Easton, Sonnie Johnson, Jenny Beth Martin, Michelle Moore, Jamie Radtke, Deneen Borelli, Janine Turner, and House members Jean Schmidt (R-OH), Cynthia Lummis (R-WY), and Michele Bachmann (R-MN). Bannon says that the goal of the film is for moderate and independent women viewers to watch the film and then say, "[T]hese women are not the crazy harridans they are portrayed as on TV." The film quotes African-American conservative Sonnie Johnson, the president of the black conservative Frederick Douglass Foundation, as saying, "If you come from the street… you know Obama has a lot of gangsta in him." Johnson, a prominent member of Virginia tea party organizations, is using a slang term for "gangster," indicating that Obama is similar to African-American street criminals who belong to gangs such as the Crips and the Bloods. Johnson's characterization is echoed in the film by Bachmann, who says, "This administration has embraced something called gangster government." Bannon juxtaposes the two women's comments with black and white footage of African-American gangsters with guns. One segment of the film shows a convenience store clerk being robbed at gunpoint; reporter Garance Franke-Ruta writes that "the narrative makes clear the man with the gun embodies the government." [Plum Line, 9/24/2010]
Entity Tags: Deneen Borelli, Sonnie Johnson, Stephen Bannon, Citizens United, Barack Obama, Ann Coulter, Dana Loesch, Michelle Moore, S.E. Cupp, Michelle Easton, Janine Turner, Jamie Radtke, Garance Franke-Ruta, Michelle Malkin, Cynthia Lummis, Michele Bachmann, Jean Schmidt, Jenny Beth Martin
Timeline Tags: Domestic Propaganda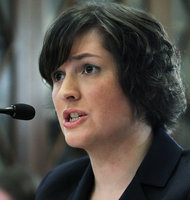 Sandra Fluke. [Source: Alex Wong / Getty Images / New York Times]Conservative radio talk show host Rush Limbaugh insults Sandra Fluke, the Georgetown University law student who testified in favor of federal law mandating that health care providers pay for contraception (see March 1, 2012), as a "slut" and a "prostitute" who wants the government to pay her for having sex. On his radio show, Limbaugh, who wrongly identifies her as "Susan" Fluke, says: "What does it say about the college coed Susan Fluke, who goes before a congressional committee and essentially says that she must be paid to have sex? What does that make her? It makes her a slut, right? It makes her a prostitute. She wants to be paid to have sex. She's having so much sex she can't afford the contraception. She wants you and me and the taxpayers to pay her to have sex. What does that make us? We're the pimps. The johns, that's right. We would be the johns—no! We're not the johns. Well—yeah, that's right. Pimp's not the right word. Okay, so, she's not a slut. She's round-heeled. I take it back." Think Progress reporter Alex Seitz-Wald comments on Limbaugh's characterization, "While it's probably not even worth engaging with Limbaugh on the facts, Fluke's testimony was about a friend who is a lesbian and needed birth control for non-sexual medical reasons, so he's only wrong about three times over, and offensive many more times over than that." Seitz-Wald notes that Fluke never discussed her own use, or non-use, of contraception, nor did she allude to her sexual activities at all. [Media Matters, 2/29/2012; Think Progress, 2/29/2012; Think Progress, 3/1/2012]
Misrepresentation - Seitz-Wald will note that Limbaugh is deliberately misrepresenting Fluke's position and the position of Congressional Democrats. "Fluke's testimony, and the entire contraception debate, is about insurance companies paying for contraception as part of their health coverage, the… way they pay for any other medication, such as Viagra. Morevoer, Fluke's testimony was not about herself, but about a friend who need contraception to fight cancer and other fellow law students. This conservative narrative, which is pure fantasy, seems to be based on a single bogus article from Cybercast News Service (CNS), which Limbaugh repeatedly cites, with the ludicrous headline, 'Sex-Crazed Co-Eds Going Broke Buying Birth Control, Student Tells Pelosi Hearing Touting Freebie Mandate.'" [CNS News, 2/29/2012; Think Progress, 3/2/2012]
Other News Outlets Join Limbaugh - Other conservative news outlets join Limbaugh in attacking Fluke and other women who use contraception. In the article cited by Limbaugh, CNS's Craig Bannister says that "sex-crazed co-eds" like Fluke should cut back on the amount of sex they're having to pay for other needs such as books and food. Fox News's Trace Gallagher mocks Fluke, saying: "And see, I was gonna go to law school, but I thought all you did was study in law school, right? So, I guess I was wrong on that." Fox News correspondent Monica Crowley says the government should not pay Fluke and others to have "recreational sex." CNN commentator Dana Loesch calls Fluke and other women "nymphos" for wanting access to contraceptives, and says Fluke and feminists "support… female genocide." [Media Matters, 2/29/2012; CNS News, 2/29/2012]
Fox Business Commentator: Fluke's Testimony Part of a Pro-Abortion Scheme by House Minority Leader - On Fox Business Channel's Lou Dobbs Tonight, regular guest Bill Donohue calls Fluke a "little brat." Dobbs asks Donohue to comment on what he calls Fluke's demand that she be given free contraception, a mischaracterization of Fluke's testimony (and one contradicted by the clip of her testimony Dobbs plays before Donohue's comments). Donohue begins by lambasting Georgetown for having a group called "Hoyas for Choice," which he calls "Hoyas for Abortion," but not groups like "Hoyas for Racism" or "Hoyas for Anti-Semitism." Donohue suggests that the university and Hoyas for Choice raise "the nine dollars a month" Fluke needs for her personal contraception needs, and Dobbs notes that Georgetown is "one of the most expensive universities in the country." Donohue attacks Fluke for "obviously dressing well" but then asking taxpayers to pay for her contraception and, without basis in fact, for her university education to boot. Why aren't taxpayers funding his anti-gout medication? he asks. "This is what we've come down to in this country," he concludes. "You have these little brats who come on TV and they testify and they say, 'I want, I want, I want,' and somehow I have a moral responsibility? They have a lien on me to pay this? It's all about getting the Catholic Church, obviously, to pay for their abortion-inducing drugs, which is why we're having this debate." Donohue says that Fluke's testimony is part of a scheme by House Minority Leader Nancy Pelosi (D-CA), "who actually brought her on there to speak," to force the Catholic Church to amend its position on abortion. [Media Matters, 2/29/2012]
'Shockingly Ugly Hatred' - Conservative blogger Charles Johnson, who in recent years has become highly critical of the race- and gender-based rhetoric from the right, writes that the right's reaction to Fluke constitutes "shockingly ugly hatred," and says Limbaugh's attack is "another step into the gutter." [Charles Johnson, 2/29/2012] Atlantic columnist Ta-Nehisi Coates agrees with Johnson, noting that Limbaugh is not just an "entertainer," but a powerful opinion leader of the Republican Party, and says that Limbaugh's comments are part of what Coates calls "the normalization of cruelty" and "evidence of the lowest aspects of humanity." [Atlantic, 3/1/2012] Eric Boehlert, a senior writer at the liberal media watchdog Web site Media Matters, calls Limbaugh's "radio outburst" an example of his "rancid misogyny," and writes: "[I]t was perhaps the talk show host's incessant need to bully powerless people from the safety of his studio that was so striking. That, and the glee Limbaugh seemed to take in not only maligning the young woman, but her parents as well. It's jaw-dropping." Boehlert goes on to remind readers that Limbaugh is not just a voice on the radio or an entertainer, but "the voice of America's conservative movement, as well as the Republican Party." [Media Matters, 3/1/2012]
House Democrats Call for Condemnation - House Democrats, including Pelosi, call for Republican Congressional leaders to condemn Limbaugh's remarks (see February 29, 2012).
Statement from Law Student - Fluke will issue a statement repudiating Limbaugh's rhetoric (see March 1, 2012).
Continued Attacks - Limbaugh will continue his attacks on Fluke the next day (see March 1, 2012).
Entity Tags: Eric Boehlert, Alex Seitz-Wald, Trace Gallagher, Bill Donohue, Dana Loesch, Craig Bannister, Charles Johnson, Ta-Nehisi Coates, Cybercast News Service, Rush Limbaugh, Georgetown University, Sandra Fluke, Fox Business Channel, Lou Dobbs, Fox News, Nancy Pelosi, Monica Crowley, Republican Party
Timeline Tags: Domestic Propaganda
Email Updates
Receive weekly email updates summarizing what contributors have added to the History Commons database
Donate
Developing and maintaining this site is very labor intensive. If you find it useful, please give us a hand and donate what you can.
Donate Now
Volunteer
If you would like to help us with this effort, please contact us. We need help with programming (Java, JDO, mysql, and xml), design, networking, and publicity. If you want to contribute information to this site, click the register link at the top of the page, and start contributing.
Contact Us