Profile: Gladys Limon
Related Entities:
Gladys Limon was a participant or observer in the following events: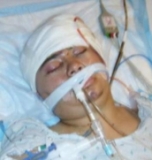 Luis Ramirez, dying of head injuries suffered during a beating by four Pennsylvania teenagers. [Source: Latino Politics Blog (.com)]Mexican immigrant Luis Ramirez is beaten to death in what appears to be a racially-motivated murder by a group of white teenagers in a Shenandoah, Pennsylvania, city park. Ramirez, a 25-year-old father of two children, has searched for work in Pennsylvania's coal region since coming to America in 2002. Witness reports say that the group of "six or seven" teenagers, which includes a number of players on the Shenandoah Valley High School football team, shout racial slurs, including "stupid Mexican," while they beat and stomp Ramirez; however, local law enforcement authorities later say race played no part in the murder. Witnesses say that the teenagers instigate the conflict by shouting at Ramirez; he briefly engages them in a fight and then walks away, but, responding to further shouts and imprecations, rushes the teenagers again. Arielle Garcia, a friend of Ramirez's, says that she and her husband Victor Garcia attempt to break up the fight, "but kids were trying to fight my husband." She says that the teenagers beat and kick Ramirez unconscious, and continue stomping and kicking him while the Garcias are attempting to protect him where he lies on the ground. She says that one teenager delivers a particularly forceful kick to the head, causing Ramirez to "start… shaking and foaming out of the mouth." One of the youths who beats Ramirez later tells one of Ramirez's Hispanic friends to tell area Hispanics to get out of Shenandoah, "or you're going to be laying next to him." Ramirez's fiancee Crystal Dillman, a local resident, says Ramirez was often called derogatory names such as "dirty Mexican," and advised to return to Mexico. "People in this town are very racist toward Hispanic people," Dillman says. "They think right away if you're Mexican, you're illegal, and you're no good." Police chief Matthew Nestor acknowledges that the area has seen a spike in racially-motivated rhetoric and even violence in the last decade, since an influx of Hispanics swelled the area's population. "Things are definitely not the way they used to be even 10 years ago," Nestor says. "Things have changed here radically. Some people could adapt to the changes and some just have a difficult time doing it.… Yeah, there is tension at times. You can't deny that." Local reporters are denied access to the police incident log, even though it is a publically accessible document; borough manager Joseph Palubinsky says the reporters have "done enough damage already," and refuses them access. A local newspaper writes after the murder, "[T]his tragic incident is not so much about who is responsible for America's failed immigration policy as it is about the right of human beings to—live." [AlterNet, 7/24/2008; Democracy Now!, 7/24/2008] Ramirez dies in a hospital two days later. Four teenagers are charged for causing his death; all four plead not guilty. Brandon Piekarsky (who delivers the fatal kick to Ramirez's head) and Colin Walsh face homicide charges. Derrick Donchak and a juvenile, Brian Scully, face lesser charges. Dillman says: "I think they might get off, because Luis was an illegal Mexican and these are 'all-American boys' on the football team who get good grades, or whatever they're saying about them. They'll find some way to let them go." Gladys Limon of the Mexican American Legal Defense and Educational Fund calls the Ramirez murder "a case of enough is enough.… [T]his is happening all over the country, not just to illegal immigrants, but legal, and anyone who is perceived to be Latino.… I do believe that the inflammatory rhetoric in the immigration debate does have a correlation with increased violence against Latinos." Mayor Thomas O'Neill says: "I've heard things like, 'We don't want to send our kids back to school because we're afraid people don't like Mexicans.' That's shocking to me. That is not the Shenandoah I know." O'Neill acknowledges that since Ramirez's death, he has learned of a number of racial incidents in Shenandoah that he says had never been brought to his attention. [New York Times, 8/5/2008; Associated Press, 5/4/2009] Garcia tells a radio reporter of the harassment she has suffered from white Shenandoah residents: "You know, like I was pregnant with my son, and they told me: 'What's that in your belly? Another person I'm going to have to pay for? Another Mexican on welfare?' Like stuff like that. It's disgusting." [Democracy Now!, 7/24/2008] None of the four will be convicted of murdering Ramirez; instead, they will either plead guilty to, or be convicted of, far lesser charges (see May 2, 2009 and After).
Entity Tags: Derrick Donchak, Brian Scully, Brandon Piekarsky, Arielle Garcia, Crystal Dillman, Victor Garcia, Thomas O'Neill, Shenandoah Valley High School, Matthew Nestor, Luis Eduardo Ramirez Zavala, Mexican American Legal Defense and Educational Fund, Joseph Palubinsky, Gladys Limon, Colin Walsh
Timeline Tags: Domestic Propaganda, US Domestic Terrorism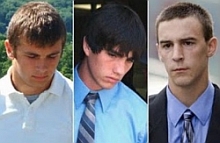 From left to right: Brandon Piekarsky, Colin Walsh, and Derrick Donchak. [Source: Moral Low Ground (.com)]Two Pennsylvania teenagers who beat an illegal immigrant to death (see July 12, 2008 and After) are found not guilty of the major crimes they were alleged to have committed. The all-white jury in Shenandoah, Pennsylvania, finds Brandon Piekarsky and Derrick Donchak guilty of simple assault against Luis Ramirez. Piekarsky is found innocent of third-degree murder; both are found innocent of ethnic intimidation. Friends and relatives of the two teenagers have to be restrained by court officers when they attempt to rush the defense table to congratulate the two defendants. Gladys Limon, a lawyer for the Mexican American Legal Defense and Education Fund, calls the jury's verdicts "a complete failure of justice." She adds, "It's just outrageous and very difficult to understand how any juror could have had reasonable doubt." Piekarsky and Donchak may face federal charges over the murder of Ramirez. Prosecutors said they were two of a group of four drunken teenagers who targeted Ramirez because of his race, and beat him to death while screaming racial epithets. Piekarsky delivered the fatal blow, a kick to the head. Ramirez died of the injury two days later. Defense lawyers called Ramirez the aggressor, and called the incident a street brawl that ended badly. Jury foreman Eric Macklin says the evidence led them to acquit Piekarsky and Donchak of all but the most minor charges. "I feel bad for Luis's friends and family," Macklin says. "I know they feel they haven't gotten justice." Neither Piekarsky nor Donchak will serve more than two years in prison. Another assailant, Colin Walsh, who actually knocked Ramirez unconscious before Piekarsky began stomping him, pled guilty to a charge of violating Ramirez's civil rights, earning four years in prison; Walsh testified for the prosecution. A fourth assailant, Brian Scully, is charged in juvenile court with aggravated assault and ethnic intimidation (see May 18, 2009). [CNN, 5/2/2009; Associated Press, 5/4/2009; Philadelphia Weekly, 5/19/2009]
Hispanic Residents Say Verdict Encourages More Racial Intimidation - Shenandoah residents say after the verdict that other white teenagers apparently feel empowered by the verdict, and have issued threats against other Hispanic residents. One, high school student Felix Bermejo, is told by a group of white males that he will be the next one to be beaten to death. Residents who have spoken out against the murder are harassed and threatened. One white resident, who asks that her name not be used for fear of retaliation, tells a reporter: "It's only gotten worse since the verdict. The whole thing has set us backwards, and if the trial had swung the other way, it would have just been the whites who were angry." Some white residents say that the only racial tensions in Shenandoah are those sparked by the national media coverage, but some Hispanic residents say differently. Fermin Bermejo, the father of the threatened Felix Bermejo, tells a reporter, "This town is a place where people can be very kind, but there are also a lot of folks who don't like change and they don't like people who are different, and they make sure you know it." The Bermejos are American citizens. Fermin Bermejo says he has tried repeatedly to get school authorities to intervene in what he calls the bullying of his son; instead, his son has been suspended for standing up to the white youths. "All we were asking the principal to do is talk to the bullies and tell them that if the accusations were true, they would be in serious trouble," Bermejo says. Other Hispanic residents tell of being targeted by ethnic slurs and criticized for speaking Spanish in public. One Hispanic shopkeeper says his store's front window was shattered by vandals after the verdict. [New York Times, 5/16/2009]
Federal Investigation Mounted - After the verdict, Governor Ed Rendell (D-PA) calls the verdict racially motivated, and calls for a Justice Department investigation. In a letter to Attorney General Eric Holder, Rendell writes: "The evidence suggests that Mr. Ramirez was targeted, beaten, and killed because he was Mexican. Such lawlessness and violence hurts not only the victim of the attack, but also our towns and communities that are torn apart by such bigotry and intolerance." After an FBI investigation, federal charges will be filed against Piekarsky, Donchak, and three local police officers (see December 15, 2009). [CNN, 12/15/2009]
Entity Tags: Eric Holder, Brian Scully, Brandon Piekarsky, Colin Walsh, Edward Gene ("Ed") Rendell, Luis Eduardo Ramirez Zavala, Fermin Bermejo, Mexican American Legal Defense and Educational Fund, Derrick Donchak, Gladys Limon, Eric Macklin, Felix Bermejo
Timeline Tags: Domestic Propaganda, US Domestic Terrorism
Email Updates
Receive weekly email updates summarizing what contributors have added to the History Commons database
Donate
Developing and maintaining this site is very labor intensive. If you find it useful, please give us a hand and donate what you can.
Donate Now
Volunteer
If you would like to help us with this effort, please contact us. We need help with programming (Java, JDO, mysql, and xml), design, networking, and publicity. If you want to contribute information to this site, click the register link at the top of the page, and start contributing.
Contact Us