!! History Commons Alert, Exciting News
Profile: Judith Resnick
Judith Resnick was a participant or observer in the following events: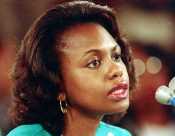 Anita Hill. [Source: ABC News]Clarence Thomas's Senate confirmation hearings for the Supreme Court (see October 13, 1991) are muddied by explosive charges of sexual harassment. Anita Hill, a conservative, African-American law professor who once worked for Thomas both at the Department of Education and at the Equal Employment Opportunity Commission (EEOC), testifies before the Senate Judiciary Committee about Thomas's alleged sexual advances towards her. The committee learned of the allegations from one of Hill's close friends, who says that Hill was the victim of frequent and pernicious sexual harassment by Thomas. The committee has investigated Hill's claims, but until now, the reticent Hill has been unwilling to come forward publicly and make the charges. (The FBI is conducting an investigation of the charges as well, though the investigation will be inconclusive.) After the story breaks in the press on October 6, committee members persuade her to come forward and lodge formal charges with the committee, thus allowing them to make her allegations public. The committee opens a second round of hearings to determine the accuracy of Hill's charges. Hill's testimony before the committee is calm and lethally specific. [Dean, 2007, pp. 146-153]
Testimony - Hill tells the committee: "I am not given to fantasy. This is not something I would have come forward with if I was not absolutely sure of what I was saying." Hill testifies: "He spoke about acts that he had seen in pornographic films involving such matters as women having sex with animals, and films showing group sex or rape scenes. He talked about pornographic materials depicting individuals with large penises or large breasts involved in various sex acts. On several occasions Thomas told me graphically of his own sexual prowess." He also "referred to the size of his own penis as being larger than normal" and spoke of the pleasure he had "given to women with oral sex." Thomas spoke of his fondness for films depicting sex with animals, and of his particular fondness for one actor known as "Long Dong Silver." Her last encounter with Thomas was in 1983, when, on her last day as an employee at the EEOC, she agreed to go to dinner with him after he "assured me that the dinner was a professional courtesy only." She adds: "He made a comment I vividly remember.… He said that if I ever told anyone of his behavior, that it would ruin his career." Judith Resnick, a law professor at the University of Southern California Law Center, says of Hill's testimony, "You're seeing a paradigm of a sexual-harassment case." Asked why she is testifying now after so many years of silence, Hill says: "I have nothing to gain here. This has been disruptive of my life, and I've taken a number of personal risks." She says she has been threatened, though she does not elaborate on the alleged threat. She concludes: "I have not gained anything except knowing that I came forward and did what I felt that I had an obligation to do. That was to tell the truth." [Time, 10/21/1991] Thomas will vehemently deny the charges (see October 11-12, 1991), and his conservative supporters will smear Hill in the hearings (see October 8-12, 1991).
Email Updates
Receive weekly email updates summarizing what contributors have added to the History Commons database
Donate
Developing and maintaining this site is very labor intensive. If you find it useful, please give us a hand and donate what you can.
Donate Now
Volunteer
If you would like to help us with this effort, please contact us. We need help with programming (Java, JDO, mysql, and xml), design, networking, and publicity. If you want to contribute information to this site, click the register link at the top of the page, and start contributing.
Contact Us