!! History Commons Alert, Exciting News
Profile: Rose Tennent
Rose Tennent was a participant or observer in the following events: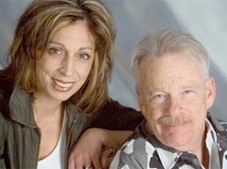 Rose Tennent and Jim Quinn. [Source: OrbitCast]As reported by progressive media watchdog site Media Matters, conservative radio host Rose Tennent, on her nationally syndicated talk show Quinn & Rose, says that former Secretary of State Colin Powell endorsed Democratic presidential candidate Barack Obama "because he doesn't want to be known as an Uncle Tom anymore. He wants to be black again." Co-host Jim Quinn says of Powell: "He's tired of being called an Oreo.… [R]emember, when he was in the Bush administration, he was a white guy." Tennent responds: "Blacks hated him. They—'Oh, he doesn't count. It doesn't count that you have someone black in the administration. He's not really black, he's an Uncle Tom.'" Tennent says that Powell's endorsement of Obama "is racism." [Media Matters, 10/20/2008]
Laura Ingraham. [Source: Pat Dollard]Fox News and radio talk show host Sean Hannity tells his radio audience of the op-ed published in the morning's New York Post by health industry lobbyist Betsy McCaughey, claiming that the Democrats' health care reform proposal would result in senior citizens being advised to end their lives prematurely (see July 16, 2009). Hannity says: "[I]t sounds to me like they're actually encouraging seniors in the end, 'Well, you may just want to consider packing it all in here, this is—' what other way is there to describe this?… So that they don't become a financial burden on the Obamacare system? I mean that's how they intend to cut cost, by cutting down on the health care we can give and get at the end of our lives and dramatically cutting it down for senior citizens? You know, welcome to the brave new world of Obamacare. We're going to encourage, you know, inconvenient people to consider 'alternatives to living.'" The same day, conservative radio host Laura Ingraham tells her listeners: "Can you imagine—if I were doing Saturday Night Live, like, if I were producing it this weekend, and I was going to be fair about political humor, I would have a hospice chute—like a door, a trap door that goes into a chute where the elderly would just walk up—'Oh, my hip hurts.' And all of a sudden you see this leg kicking granny down the chute, and that's Obamacare." She continues by making a veiled reference to Nazi concentration camps: "[S]ome will call them death camps, but this is the way Obamacare is gonna go for America." And on the same day, conservative radio hosts Jim Quinn and Rose Tennent echo Hannity and Ingraham's claims. Quinn says, "[T]here's a drop dead date, you should pardon the expression but a lot of us are going to—" Tennent interjects, "Are going to drop dead, yeah." Quinn then adds, "For heaven's sakes, this is the death-to-old-people plan." [Media Matters, 7/17/2009]
Conservative radio host Jim Quinn, of the syndicated Quinn and Rose broadcast, tells his listeners that President Obama "is an African colonial" who "hates" Britain. Discussing the Obama administration's response to the Gulf of Mexico oil spill, Quinn says that BP (formerly British Petroleum), the company responsible for the spill, "stands for the two things that Obama hates the most in his life… the Brits and petroleum." Quinn continues, "Let us not forget, he is… an African colonial," and adds that "this guy's got a hard on for the Brits in particular, and Western civilization in general." [Media Matters, 6/11/2010] Quinn is echoing previous claims of Obama's "African colonial" and "Afrocentric" sympathies (see December 26, 2007, January 16, 2008, June 25, 2009, June 29, 2009, November 17, 2009, and February 2, 2010). Quinn and his partner, Rose Tennent, have previously made racist allegations against Obama and his African-American supporters (see October 20, 2008), and Quinn has said that only American landowners should be allowed to vote (see October 21, 2008).
Email Updates
Receive weekly email updates summarizing what contributors have added to the History Commons database
Donate
Developing and maintaining this site is very labor intensive. If you find it useful, please give us a hand and donate what you can.
Donate Now
Volunteer
If you would like to help us with this effort, please contact us. We need help with programming (Java, JDO, mysql, and xml), design, networking, and publicity. If you want to contribute information to this site, click the register link at the top of the page, and start contributing.
Contact Us