Alaskan Independence Party logo. [Source: Alaskan Independence Party]Reporters and authors Max Blumenthal and David Neiwert compile an investigative report for Salon that documents the large, if shadowy, network of far-right militia support that Governor Sarah Palin (R-AK) enjoys. Palin is running for vice president with presidential candidate John McCain (R-AZ). Two of her most powerful supporters are Mark Chryson, the former head of the Alaskan Independence Party (AIP), and Steve Stoll, a far-right activist and member of the John Birch Society (see March 10, 1961 and December 2011) known in his home region of the Mat-Su Valley as "Black Helicopter Steve." Both Chryson and Stoll are large financial contributors to Palin's various political campaigns, and, as Blumenthal and Neiwert write, "they played major behind-the-scenes roles in the Palin camp before, during, and after her victory," referring to her successful campaigns for mayor of Wasilla (see Mid and Late 1996) and, later, Alaska's governor. Chryson's AIP fought to eliminate taxes, support what it called "traditional family" values, remove all restraints from gun ownership, and perhaps most controversially, force Alaska to secede from the United States. Still a proud AIP member, Chryson tells the reporters that he still has "enough weaponry to raise a small army in my basement," but assures the rest of the nation, "We want to go our separate ways, but we are not going to kill you." Under Chryson's leadership and on into the present, the AIP works to connect with like-minded secessionist movements from Canada to the Deep South of the US. Chryson is from Wasilla, Palin's hometown, and during the 1990s his support was critical in making Palin the mayor of Wasilla and later the governor of Alaska. He and Stoll played an equally critical role in shaping her political agenda after her victories. Governor Palin often worked closely with Chryson as he and the AIP worked to successfully advance a wave of anti-tax, pro-gun legislative initiatives, and helped Chryson put through a change in Alaska's Constitution to better facilitate the formation of anti-government militias. As both mayor and governor, Palin and Chryson worked together to extract revenge against local officials they disliked. Palin often took Chryson and Stoll's advice on hiring government officials. "Every time I showed up [in Wasilla] her door was open," Chryson says. "And that policy continued when she became governor."
Originally Saw Palin as Too Accomodating with Democrats - Chryson first met Palin in the early 1990s, when he was a member of a local libertarian pressure group called SAGE, or Standing Against Government Excess. He met her through SAGE founder Tammy McGraw, who was Palin's birth coach. Palin was a leader in a pro-sales tax citizens group called WOW, or Watch Over Wasilla, which helped her win a seat on the Wasilla City Council in 1992. Chryson liked her, but considered her too willing to work with council Democrats to be of use to him. Chryson was then jockeying to become head of the AIP, a powerful political party that in 1990 had elected Wally Hickel (AIP-AK) as governor; Palin wanted to be mayor of Wasilla. Chryson and Palin quickly determined that they could help one another. Chryson became leader of the AIP in 1997, and saw Palin as a chance for the AIP to take its message more mainstream. He helped quiet the more racist members and platform planks of the AIP, and reached out to Alaska's growing Christian-right movement by emphasizing AIP's commitment to "traditional family" values and its opposition to gay rights. Chryson even succeeded in softening the AIP's insistence on secession. Chryson is an expert at crafting his political message to appeal to disparate groups, and succeeded in forging alliances with white supremacists, far-right theocrats, neo-Confederates, and more moderate right-wing groups that do not advocate open racism, rebellion, Christian theocracy, or violence. In 1995, Palin's husband Todd joined the AIP, further cementing Chryson's increasing support of Palin.
Palin Secured AIP Support for Mayorality - With Stoll, Chryson helped gain Palin the mayorship of Wasilla in the 1996 election, comforted by Palin's steady move rightward as she continued her tenure on the city council. Palin's opponent in that election, Republican John Stein, will later say of Chryson and Stoll: "She got support from these guys. I think smart politicians never utter those kind of radical things, but they let other people do it for them. I never recall Sarah saying she supported the militia or taking a public stand like that. But these guys were definitely behind Sarah, thinking she was the more conservative choice.… They worked behind the scenes. I think they had a lot of influence in terms of helping with the back-scatter negative campaigning." Chryson helped Palin craft a successful campaign based on personal attacks on her opponents, both Stein and her Democratic opponent. Palin characterized Stein as a closet Jew and a sexist, both mischaracterizations, and falsely challenged the legal status of his marriage. Wasilla resident Phil Munger, a close friend of Stein's, recalls, "I watched that campaign unfold, bringing a level of slime our community hadn't seen until then." Chryson helped Palin thwart a local gun-control measure (see June 1997). Chryson and Palin attempted to name Stoll to an empty seat on the Wasilla City Council, but were thwarted by another councilman, Nick Carney, who considered Stoll too "violent" to be a successful council member.
Implementing AIP Agenda as Governor - Chryson recalls helping Governor Palin slash property taxes and block a measure that would have taken money for public programs from the Permanent Fund Dividend, or the oil and gas fund that doles out annual payments to citizens of Alaska. Palin endorsed Chryson's unsuccessful initiative to move the state legislature from Juneau to Wasilla. She was successful at helping Chryson get pro-militia and gun-rights language into the Alaska Constitution. In 2006, Chryson helped Palin bring Hickel on board as the co-chairman of her gubernatorial campaign; Hickel's presence meant the implicit endorsement of the AIP for Palin's candidacy. Hickel later said of his support, "I made her governor." Hickel now supports Palin's bid for the vice-presidency, spurred in part by her explicit endorsement of the AIP agenda (see March 2008).
Infiltrating the Mainstream - Chryson has long advocated that AIP members "infiltrate" both Republican and Democratic parties, and points to Palin as a model of successful infiltration. "There's a lot of talk of her moving up," AIP vice chairman Dexter Clark says of Palin. "She was a member [of the AIP] when she was mayor of a small town, that was a nonpartisan job. But to get along and to go along she switched to the Republican Party.… She is pretty well sympathetic because of her membership." It is possible, Blumenthal and Neiwert speculate, that Clark saw Palin as so closely aligned with Chryson and the AIP that he wrongly assumed she was an official member. Chryson understands that as a vice-presidential candidate, Palin has no intention of espousing secessionist or racist views. Indeed, he hopes that her inauguration will represent the beginning of a new and deeper infiltration. "I've had my issues but she's still staying true to her core values," Chryson says. "Sarah's friends don't all agree with her, but do they respect her? Do they respect her ideology and her values? Definitely." (Blumenthal and Neiwert 10/10/2008) In the days after this article appears, the McCain-Palin campaign will confirm that Sarah Palin has been a registered Republican since 1982, and claim that she was never a member of AIP. AIP chairperson Lynette Clark will say that her husband Dexter's recollection of Palin as an official AIP member is mistaken, and reiterate that she and AIP support Palin fully in her bid for the vice presidency. (Tapper 9/1/2008; Alaskan Independence Party 9/3/2008)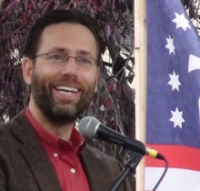 Joe Miller. [Source: Mad As Hell And ... (.com)]Salon reporter and columnist Justin Elliot warns that if Alaska Senate candidate Joe Miller (R-AK) is elected, the militia movement in that state will have a staunch supporter in the US Senate. Elliot writes his column shortly after a controversial video of a recent Miller rally makes national news, showing Miller supporters openly brandishing assault rifles during a march (see July 19, 2010). Norm Olson of the Alaska Citizens Militia (see April 1994, March 25 - April 1, 1996, and Summer 1996 - June 1997) tells Elliot: "It's safe to say that Joe Miller is a friend of patriots. His beliefs and platform favor Second Amendment rights as well as the power of nullification when the federal government intrudes into the private lives of Alaskans." Olson claims his Alaska Militia has several hundred members and supporters; the organization accuses the federal government of committing 17 "acts of war" against the US population, including "firearms restrictions or other disarmament," "mandatory medical anything," "federal patrols," "taking control of children under duress or threat," "federalization of law enforcement," and "surrender powers to a corporation or foreign government." Miller advocates interpreting the Tenth Amendment to "get the government out of our lives," an interpretation classed by critics as "tentherism," which many on the right, including militia organizations, say should be used to force the federal government to cede vast powers to the states and even local authorities. The "tenthers" often focus on dissolving Social Security and other federal "safety net" programs, and ending all controls on gun ownership. Elliot writes: "This is the centerpiece of Miller's political identity. He asserts that there is no constitutional authority for the health care reform law or proposed cap and trade legislation. He advocates a state takeover of federally controlled land in Alaska such as Denali National Park. These are the kinds of positions that are creating buzz in the militia world." Olson's colleague, Ray Southwell, who accompanied Olson to Alaska after both were ejected from the Michigan Militia for their extremist views (see April 1994, March 25 - April 1, 1996, and Summer 1996 - June 1997), has written emails and Web posts in support of Miller in recent weeks. One email reads in part, "We need leaders here to stand against the feds." Another militia member wrote: "Joe Miller is an strong Constitution following patriot, he does not play games.… If we want to make sure Joe Miller keeps on the straight and narrow, WE, ALL OF US, have to make damn sure he and his entire family are safe and sound, because that is a common way to get at a man go for the soft spot family [sic]." Elliot notes that the Alaska militias are not unified in support of Miller, and some, like Schaeffer Cox of the Alaska Peacemakers Militia, say, "He's going to try to run things in a more conservative way, but he's still trying to run things—so he has the same fundamental problem of all the other politicians." (Elliot 7/23/2010) The online news site Alaska Dispatch will note that Cox also founded and leads the Second Amendment Task Force, the group that turned out to display its assault weapons during the recent Miller rally. It also will note that Olson recently attempted to run for lieutenant governor on the Alaskan Independence Party (AIP) ticket (see September 6-7, 2008). The AIP is one of the largest and most well-known secessionist organizations in Alaska, and once listed Todd Palin, the husband of former Alaska Governor Sarah Palin (R-AK), as a member. (KTUU-TV 9/6/2010; Alaska Dispatch 9/23/2010) Miller claims to know nothing of AIP's agenda or views, but according to the Alaska Dispatch and the liberal blog Progressive Nation, AIP's statements of beliefs are virtually identical to those espoused by AIP. It's unlikely Miller is unaware of AIP, the blog claims, and asks, "If you like the Tea Party, you gotta love the Alaskan Independence Party, so why has it been shunned even by Alaska politicians?" It goes on to note that when Palin ran for vice president in 2008, the McCain-Palin campaign called attempts to call attention to her family's ties to AIP a "smear." AIP itself has written on its Web site, "No longer a fringe party, the AIP is a viable third party with a serious mission and qualified candidates for elected offices," and boasts the inclusion of former Governor Wally Hickel (AIP-AK) as a member. The blog notes that former AIP member Todd Palin is involved in Miller's campaign. (Progressive Nation 7/11/2010; Medred 9/8/2010) Miller will later be shown to employ security guards with militia ties (see October 17, 2010).