!! History Commons Alert, Exciting News
Profile: Yusuf Galan
a.k.a. Luis Jose Galan Gonzalez
Yusuf Galan was a participant or observer in the following events: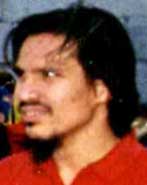 Parlindungan Siregar. [Source: El Pais]Parlindungan Siregar, an Indonesian, has been studying in Spain since 1987, and has begun working with Barakat Yarkas, head of the al-Qaeda cell in Madrid. In October 2000, he returns to Indonesia, but remains in constant phone contact with Yarkas. Spanish intelligence has been monitoring Yarkas's phone calls for years (see 1995 and After). Linking with Indonesian militants, Siregar begins organizing an al-Qaeda training camp near the town of Poso, on the Indonesian island of Sulawesi. [Conboy, 2003, pp. 224-225] Soon thereafter, Madrid cell member Yusuf Galan is monitored as he receives e-mails from Siregar assessing the situation in Indonesia. For instance, one e-mail says, "You can do many things here. With only five million pesetas ($50,000 dollars), we can buy an island of 200 hectares that would be very useful. But our main need now is the weapons. Remember that everything we do should approach toward jihad." [El Pais, 7/15/2007] In May 2001, Yarkas travels to Indonesia to assess the new camp, called Camp Mujahidin. By the time he arrives, there already are some recruits being trained, including an Australian citizen. Impressed, Yarkas returns to Spain and makes arrangements for al-Qaeda to properly fund the camp. Galan brings the money to Siregar at the camp in July 2001. However, the Spanish government does not share any of what it learned with the Indonesian government until November 2001, when the allegations are made public as part of some Spanish indictments (see November 13, 2001). But the camp is shut down shortly after the 9/11 attacks, and by November, Siregar and other operatives cannot be found. [Conboy, 2003, pp. 224-225] Siregar will later be linked to the 2002 Bali bombings (see October 12, 2002). In 2007, it will be reported that he is one of the most wanted al-Qaeda figures world-wide and on many wanted lists. [El Pais, 7/15/2007]
Serhane Abdelmajid Fakhet. [Source: Spanish Interior Ministry]Serhane Abdelmajid Fakhet, later considered one of about three masterminds of the 2004 Madrid train bombings (see 7:37-7:42 a.m., March 11, 2004), is already being monitored by Spanish intelligence. On this day, he is photographed with Barakat Yarkas, leader of al-Qaeda's main cell in Spain. Yarkas will be arrested for an alleged role in the 9/11 attacks less than a month later (see November 13, 2001). [El Mundo (Madrid), 8/16/2005] Fakhet had been under surveillance since 2000. [Irujo, 2005, pp. 182-186] He will allegedly blow himself up not long after the bombings (see 9:05 p.m., April 3, 2004). There are allegations that he was an informant at least by 2003 (see Shortly After October 2003). Also seen in the pictures are Yusuf Galan, another member of Yarkas's cell who will be arrested with Yarkas and later convicted (see September 26, 2005), and Mouhannad Almallah, who has been under surveillance since at least 1998. Almallah will later be sentenced to 12 years in prison for a role in the Madrid bombings (see October 31, 2007). [El Mundo (Madrid), 10/27/2004]
Baltasar Garzon. [Source: Associated Press]Spanish intelligence has been watching an al-Qaeda cell in Madrid for years, and has been aware since 1995 that cell members are committing a variety of crimes in Spain (see 1995 and After and Late 1995 and After), but none of them have ever been arrested. Finally, after investigators find links between the cell and the 9/11 hijacker cell in Hamburg (see Shortly After September 11, 2001), the decision is made to shut the cell down. On November 13, 2001 Spanish police arrest cell leader Barakat Yarkas, a.k.a., Abu Dahdah, and ten other alleged members of his cell, including Yusuf Galan and Mohamed Needl Acaid. Spanish police, led by judge Baltasar Garzon, appear confident that they smashed the al-Qaeda presence in Spain. However, a number of suspects are left at large who will go on to take part in the 2004 Madrid bombings (see November 13, 2001). [New York Times, 11/14/2001; New York Times, 10/26/2004] Yarkas, Galan, Acaid, and others will be convicted for various crimes in 2005 (see September 26, 2005).
Email Updates
Receive weekly email updates summarizing what contributors have added to the History Commons database
Donate
Developing and maintaining this site is very labor intensive. If you find it useful, please give us a hand and donate what you can.
Donate Now
Volunteer
If you would like to help us with this effort, please contact us. We need help with programming (Java, JDO, mysql, and xml), design, networking, and publicity. If you want to contribute information to this site, click the register link at the top of the page, and start contributing.
Contact Us